November 5, 2009
Kawasaki Kisen Kaisha, Ltd.
"K" Line to Invest in Zhejiang Eastern Shipyard Co., Ltd.
Kawasaki Kisen Kaisha, Ltd. ("K" Line) is pleased to announce that a JVA in ship repair business has been signed with the joint venture company between Hanjin Shipping and Shunhe Shipping of Zhejiang Eastern Shipyard Co., Ltd. (ZESCO), a shipyard in Zhejiang Province by accepting ZESCO's increase capital for third parties together with Shanghai Changjiang Shipping(Sinotrans group).
ZESCO is located in a northern part of Zhoushan islands, Zhejiang Province, occupying total area of 550,000m2 with 1,900m length of coastline. It has capacity of 150 vessels per year, equipped with two large graving docks (one of which can accommodate 300,000dwt class VLCC or VLOC and the other can accommodate CAPE-size), hull workshop (13,000m2), one repair berth, painting workshop and mechanical-electrical workshop. In addition, ZESCO plans to construct second repair berth and third graving dock. The graving dock facilities and one repair berth were completed and full operation started in early April 2009. 24 vessels have already docked in ZESCO and another 16 vessels are expected to dock in by the end of this year. "K" Line secures certain repair slots at ZESCO as a main shareholder and user. ZESCO is located very conveniently near Shanghai Yangshan, and can accommodate all kinds of vessels (not limited to containerships) without any narrow navigation restriction on the river.
"K" Line's participation in ZESCO means that we obtain core repair slots for increasing large-size vessels, as we announced in August 2008 when "K" Line became a Primary Strategic Partner in ship repair business with Titan Quanzhou Shipyard Ltd. (TQSL) under construction in a suburb of Quanzhou City, Fujian Province. By these two projects, ZESCO and TITAN, "K" Line will cooperate with our friendly owners in regards to nomination to the two dockyards, placing "K" Line in an even better position to pursue enforcement of its safety policy and stable quality of ship management. In October 2009, we also established a consultant company 'Shanghai Brainy-Kawasaki Maritime Service Co., Ltd (SBK)' and SBK started to provide full support when vessels dock in the above two dockyards.
* Shareholding ratio of ZESCO after "K" Line participation will be: Hanjin Shipping(Korea)-34%;
Shunhe Shipping(China)-34%; Shanghai Changjiang Shipping(China, Sinotrans group)-20%; "K" Line(Japan)-12%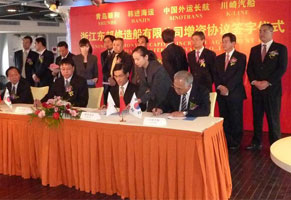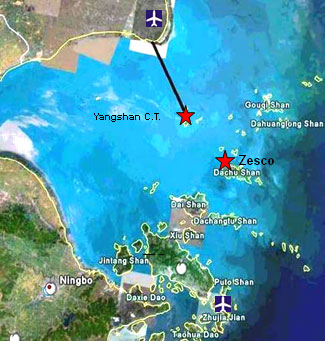 Geographical Location
E : 122°17' 0"
N : 30° 28' 6"
Geographical Advantages
ZESCO is situated on Dachu Shan Island
which is located about 21 miles south of
Shanghai (midway between Shanghai
city and Zhoushan city).
This area is a fast growing center of China
New-Shipbuilding and Repair shipyard
complex, COSCO Shipyard (Zhoushan),
IMC Shipyard, etc., etc... and favored
with well established infrastructure for
ship repairs and conversions.
Shipyard Layout & Facilities
Total Area : 551,310m2 Coastline : 1,892m
Phase I : Completed
Dry dock : No.1 Dock (76m X 360m)
No.2 Dock (54m X 310m)
Quay : East Quay - 670m
Phase II : On the plan
Dry dock : No.3 Dock (81m X 380m)
Quay : West Quay - 640m