February 21, 2017
Kawasaki Kisen Kaisha, Ltd.
"K"Line Receives"Special Award"for "2017 Consideration Action Plan Against Global Warming in Chiyoda Ward"
To promote environmental conservation activities in which the offices are daily engaged, Chiyoda Ward in Tokyo, Japan has been requesting offices with more than 300 employees in the ward to report their plans and progress of relevant counter-measures designed to combat global warming such as annual"environmental activities,""environmental education"and"regional contributions."They also encourage widely-sharing and promoting of activities addressing global warning through recognition, announcement and introduction of excellent activities during the reporting period.
At the awards ceremony, held on 26 January 2017, out of 247 offices which have submitted the above-mentioned reports, total of ten offices were selected, one given "Most Excellence Award,"one given"Excellence Award,"one given"Excellence Award for Considerate Action"and seven"Special Awards"and were also given testimonials and wooden trophies from the director of Chiyoda Ward.
We,"K"Line, received a "Special Award"in consideration of our"K"Line Group Environmental Award 2016 *1 which was evaluated as a helpful and a unique model to other participants.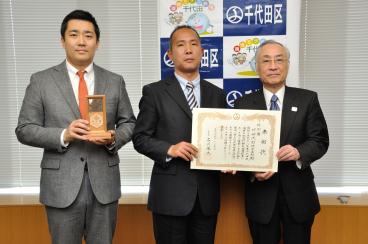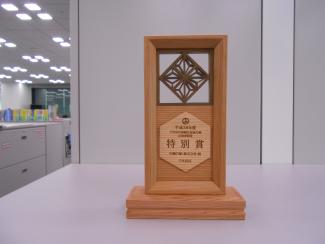 It was our great pleasure to participate in work that achieves considerable contribution to action plans against global warming, and we shall continue to make every possible effort throughout our entire"K"Line Group.

*1 :"K"Line Group Environmental Award
These Awards are intended to widely share and promote environmental conservation activities in which "K"Line Group companies are engaged through their recognition and introduction as well as expansion of such activities beyond the Group.