February 17, 2012
Kawasaki Kisen Kaisha, Ltd.
Long Distance Land Transportation by Triple Decker Motorcycle Carrier Introduced in Indonesia
PT. KLINE MOBARU DIAMOND INDONESIA (KMDI) is a member of the business group of PT. KLINE INDONESIA, "K" Line's subsidiary in Indonesia. From this February, the company has started long distance transport from the distribution center of a Japanese affiliated motorcycle manufacturer in Jakarta to its domestic depot (interim depot before delivering to local sales companies) in 2 major cities of Java, Semarang and Bandung.
The company developed, jointly with an Indonesian manufacturer, a three-level motorbike carrier for use in domestic road transport in December 2010 and has obtained a patent.
The new chassis, which can load around 100 scooters and increases load capacity by 30% over conventional two-level models, is a ground-breaking transport mode that contributes to increase of transport efficiency and CO2 reduction.
The company has embarked with successful results in transport by shuttle from a Japanese affiliated motorcycle factory in Jakarta to its distribution centre.
In Indonesia, we will promote the expansion of this service network to domestic depots in other major cities of Java. We will also promote business growth of the triple decker motorcycle transport to address local needs in India, China and ASEAN countries where the demand for motorcycles is rising and as the company goes through the application procedure for a patent.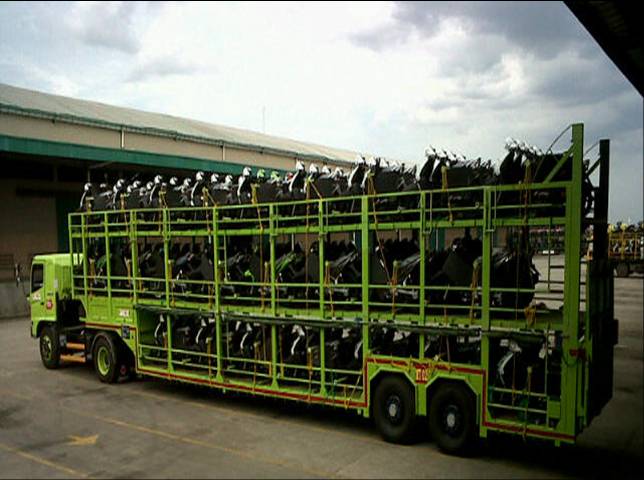 ▲ Triple Decker Fully Loaded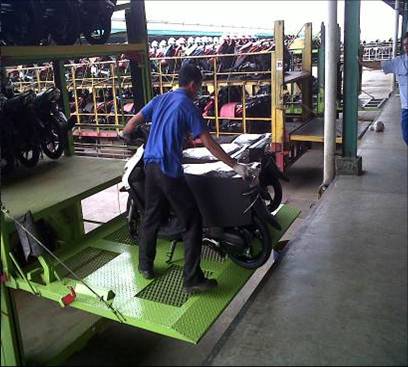 ▲ Loading/Discharging operation