November 4, 2015
Kawasaki Kisen Kaisha, Ltd.
"K" Line to Support Ocean Transportation of Fire Engines and Ambulances Donated to Republic of El Salvador
Kawasaki Kisen Kaisha, Ltd. ("K" Line) has announced that it provides free ocean transportation of three fire engines and two ambulances donated by Japan Firefighters Association to Republic of El Salvador.
In order to contribute to the international society, mainly in terms of the improvement of fire defense systems in the developing countries, Japanese Firefighters Association has been donating fire engines used in Japan to overseas. As a part of these activities, it has donated five vehicles to El Salvador this time. On the other hand, it is the third opportunity for "K" Line, which has been assuming charge as Honorary Consul of El Salvador since 1969, to transport the donated vehicles to the country for free, following October 2014 and April 2015 when it transported 4 vehicles in total. 
A departure ceremony was held on October 21, with the attendance of Ms. Martha Lidia Zelayandia, Ambassador of El Salvador to Japan, as well as Mr. Koichiro Hara, Chairman of Japan-El Salvador Association (Representative Director of Fulltime System Co., Ltd.).
On October 29, in the cooperation of Daito Corporation, an affiliate company of "K" Line,  those vehicles have been loaded onto "K" Line's pure car carrier (PCC) at Yokohama who will arrive at the port of Acajutla, El Salvador in late November.
This year sees the 80th anniversary of the establishment of diplomatic relations between El Salvador and Japan. "K" Line hopes the vehicles it transported may contribute to the reinforcement of fire defense and lifesaving systems in the country and cordial relations between two countries may develop further.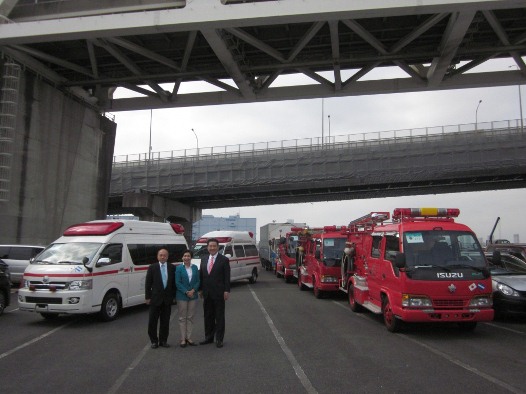 Photo NO, 1
(Center) Ms. Martha Lidia Zelayandia, Ambassador to Japan, Republic of El Salvador
(Right) Mr. Koichiro Hara, Chairman of Japan-El Salvador Association (Representative Director, Fulltime System Co., Ltd.)
(Left) Mr. Kunio Okumura, Assistant to Honorary Consul of El Salvador in Japan, "K" Line (on behalf of Mr. Hiroyuki Maekawa, Honorary Consul of El Salvador in Japan)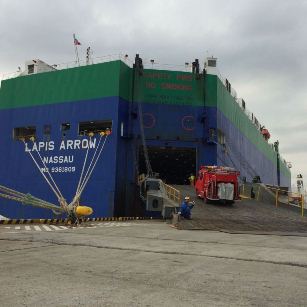 Photo NO, 2
The fire engine being loaded on "K" Line's pure car carrier (PCC) LAPIS ARROW