January 4, 2012
Kawasaki Kisen Kaisha, Ltd.
2012 New Year's Message from the President
- Our revolutionary resolution in the New Year : Make it through a trying time ! –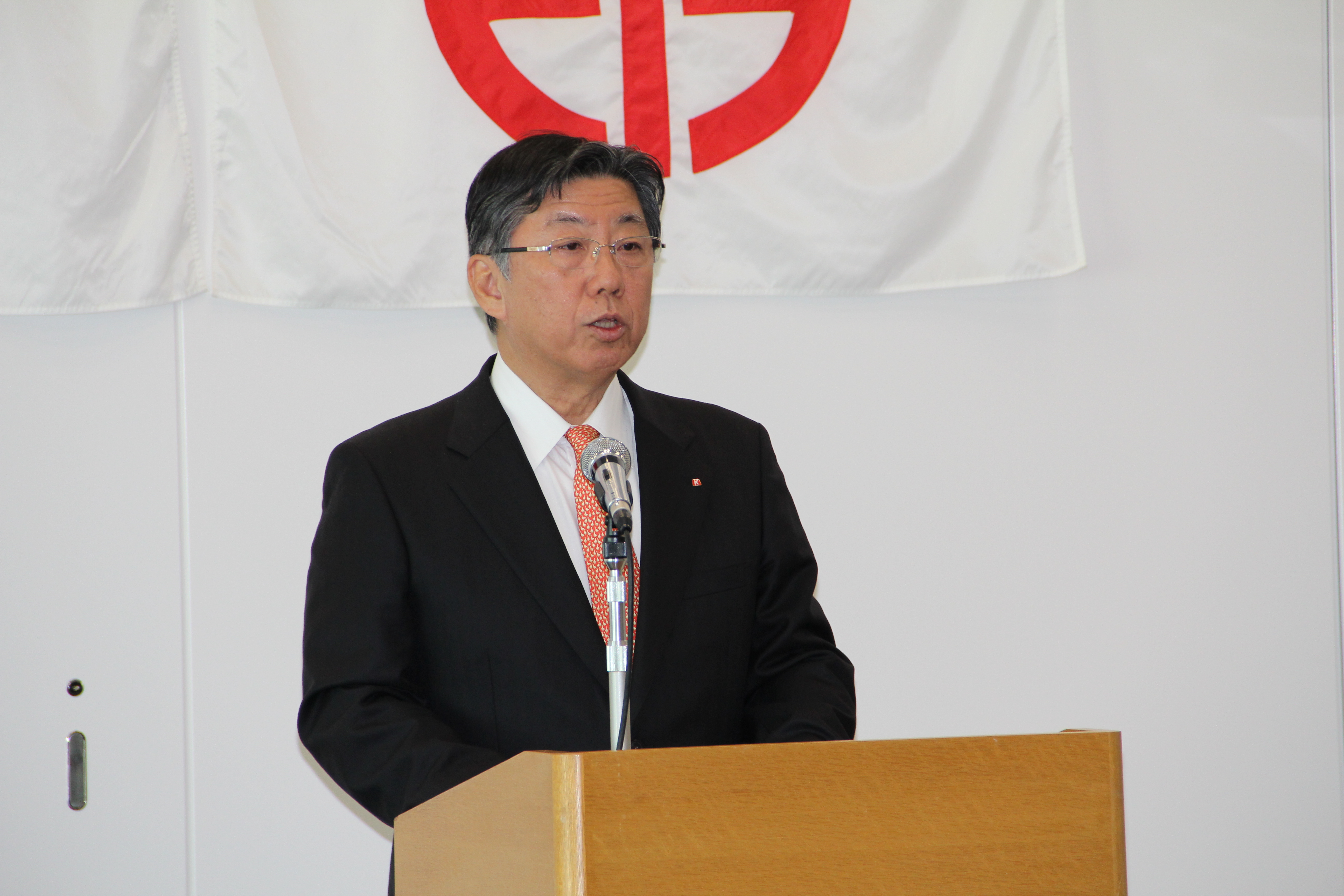 As we start another year, I extend these New Year Greetings to all of you around the world. At this opportune time as we prepare ourselves for the challenges facing us in 2012, allow me to give you a summary of events from the previous year together with some reflections and hopes for the future of "K" Line.
Many precious lives were lost in our country by the unprecedented great earthquake and tsunami which hit East Japan on March 11 last year. Moreover, by the Fukushima nuclear power plant disaster which occurred simultaneously, many people were obliged to seek refuge. When confronted with the reality that a disaster could suddenly destroy the fortunate livelihood of so many people in one day, we were left stupefied but our nation has been stepping up efforts to restore daily life little-by-little. Since efforts to revive the stricken areas have finally started in full swing, we are also once again looking seriously and doing all that we can do in order to support the revival efforts for the stricken areas both as individuals and as a company.
From a global perspective, although democracy movements in various Arab countries that began in Tunisia conquered dictatorships in some countries, they are still far from achieving political stability and in fact confusion continues. In Europe, measures for applying the brakes to expanding national government debts have not yet effectively put the countries concerned into stable shape. Markets have reacted pessimistically, and have fallen into a vicious circle of degradation with sale-off of national bonds. We are fearful that it may undermine confidence in the global financial system.
I presume the world economy presently stands on the edge of whether or not the financial crisis that occurred three years ago in the United States will be repeated in Europe. Even for newly emerging economies, such as China which became the Savior in the last financial crisis, adverse effects from the stagnating European and American economies are inevitable. These countries face difficulties in staying in control of their economies due to inflation, combined with soaring costs of resources and food. There is hardly any clear weather in the current world economy.
In such severe situations, the greatest crucial movements of the century affecting business conditions of our shipping industry have been occurring in the world such as the natural flooding disaster that occurred at the end of year before last in Australia, one of the main producing countries of coal, became a cause of the extreme downturn in the cape-size bulker market; and destruction caused by the Great East Japan Earthquake and flooding that occurred in Thailand last year sharply decreased automobile export volumes temporarily. The extent of damage ranged from completed car production to crude steel production in Japan and so on. Moreover, it is obvious that no improvement in shipping markets can be expected except for some energy sectors under the aforementioned situation of the world economy. In such an environment, many ocean carriers launched mega containership vessels causing over-supply that worsened the market stagnation in trunk lines such as Asia to Europe and Asia to North America. Freight rates declined during the last winter off-season and remain stagnant. As for our business performance, in the first half of this fiscal year (April 1 to September 30, 2011; hereafter referred to as "1st Half"), consolidated operating revenues were down 4.5% compared with corresponding period last year, and consolidated ordinary income regrettably fell to a 20.3 billion yen deficit. 1.5 million TEUs of containership capacity, the equivalent of 12% of the world's containership fleet, were either idled or laid-up in the last recession with freight rates sharply rebounding after that, partially with the help of slow steaming. However, it will take a while before supply-and-demand balance is improved because there is still small percent of ships currently idled and laid-up.
In the medium-term management plan outlining new challenges established in April last year, it was declared to promote strategic investment in newly-developing areas by promptly adopting changes in market structures and growth of newly-emerging economies. When I became president, my primary mission was to establish a stable earnings base and reinforce our financial base by making a qualitative transition away from across-the-board expansion.
And in light of the current business conditions, we should definitely hold a defensive position this year. It is important to set an invulnerable defensive line first, and to avoid losing even a point. Although offense-focused strategy had been taken for five years after 2004, in order to hold our own for several more years in the future, we recognize this is the time to wait for the following upward cycle with a position of impregnable defense. We know the famous expression that bull markets are born on pessimism, grow on skepticism. If one looks back upon the present in long history, it may become a year from which a sprout begins to shoot in the wilderness in 2012. If you keep your eyes open to the front and do what is proper without being too pessimistic, you will discover your way. 2012 is the "Year of the Dragon." The dragon is like a hero or God in China. Since a dragon also has a dramatically jumping image, I hope that the "Year of the Dragon" will remove the gloomy mood that has been enveloping the world later this year.
In order that new management has a successful start from the severe business conditions involving the overly-strong yen and soaring fuel oil prices that are unalterable by individual endeavor, each section must have "judgment" and "power of execution" as well as exercising best management. The theme of this year is to overhaul our business operations and think out future strategy.
In our Containership Sector, we must strive to move the business into the black as soon as possible by making further structural reforms without allowing any sanctuary.
What is required for the Dry Bulk Sector is to strengthen marketing strategies for selling our high quality and competitive fleet to the global market.
In the Car Carrier Sector, although structural changes by overly-strong yen are occurring in the main Japanese export environment, global car sales are expected to strongly increase centering on newly-emerging economies in the future as well. Under such supply-and-demand environment, we must tackle improvement in profitability by maximizing our expertise, strengthening our service networks and developing more viable transportation of construction, mining and agricultural equipment.
In the Energy Transportation and Tanker Sector, although a plan of balanced contraction has to be taken in view of the prospects that market recovery will take considerable time due to strong supply pressure of newbuildings; on the other hand, stable profit is certainly expected by mid-term contracts concluded for LNG carriers.
In the Offshore Support Vessel Business Sector, we will seek further stable earnings since efforts that we made up to last year were rewarded by attaining good reputation from first-class charterers and contracts with them successively concluded.
In the Heavy Lifter Sector, the SAL Group headquartered in Germany, became one of our wholly-owned subsidiaries in June last year. With the organization that will tackle this business now completed, I certainly believe that recovery in the market condition will be incorporated.
In the Logistics Sector, we are convinced that there are important challenges to expand our logistics business in developing Asian countries by enhanced lineup of our Logistics group.
It is essential that we address the impacts that these businesses impose on the global environment by implementing environmental preservation measures as a fully-dedicated member of international society. The development project team for the LNG-fueled car carriers we launched with Kawasaki Heavy Industries, Ltd. and Det Norske Veritas, Norway two years ago announced a challenge with a concrete approach to develop the world's most advanced technology. We know there are a number of barriers to be crossed in order to realize them, but it is certain that our "K" Line spirit can be sustained by dedicating ourselves to any and all challenges.
In closing, we thank everyone who has and continues to support us. We will continue to deliver our esteemed customers' cargo to destination with maximum safety and satisfaction. I would like to express my very best wishes for the well-being and happiness of all people around the globe, and my sincere hope for the safe passage of all ocean-going vessels throughout the year.
Jiro Asakura
President & CEO