February 15, 2017
Kawasaki Kisen Kaisha, Ltd.
"K" Line Receives Top Assessment at "CDP Supply Chain Climate Change"
"K" Line has received high commendation from CDP*1 with top rating, "A" Rank in the "CDP Supply Chain Climate Change" and has been also selected in the "Supplier Engagement Leader Board" as a particularly excellent company.
In last October, we also received top assessment of "A Rank" in the CDP survey for "Counter-measures for Climate Change" *2 and these high evaluations are consecutive recognition of "K" Line's achievements.
"CDP Supply Chain Climate Change" is a survey conducted since 2009 to promote companies'supply chain management, which entrusts surveys and evaluations based on their own suppliers' climate change strategy to CDP.
CDP analyzed and evaluated responses from over 4,300 suppliers worldwide, and announced the 110 highest ranked companies as "A" Rating companies, and 29 companies (including 7 Japanese) identified as leading in their actions to manage climate change across their supply chain, as "Supplier Engagement Leader Board". We were selected in both.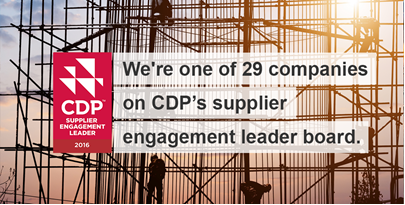 As a world–leading marine transport operator, "K" Line continues to aim at providing more environmentally-friendly and efficient transportation services for more people all over the world.
*1 CDP:CDP is an international non-profit organization (NPO) that surveys, evaluates and discloses companies' environmental initiatives, and they disclose the evaluation results as global common indicators to measure corporate value.
*2 "K" Line receives top assessment of "A rank" by CDP, for their survey of
"Counter-measures for Climate Change"