November 5, 2014
Kawasaki Kisen Kaisha, Ltd.
Transportation of Ferries Operating in Yangon, Myanmar
SAL Heavy Lift GmbH (SAL), a 100% subsidiary of "K" Line and heavy-lift shipping company based in Germany, has transported three newly-built ferries which were constructed under the sponsorship of Official Development Assistance (ODA).

In Yangon, ferries have been transporting more passengers than their maximum capacity on a route between central Yangon and Dala area which is located across Yangon River, and those ferries which are currently operating have had damage due to being in service for a very long period. Therefore, it was necessary to replace the ferries with the new ones. The newly-built ferries (270 mt each) were built at Nakatani Shipbuilding Co., Ltd. in Edajima, Hiroshima Prefecture. In mid-October, SAL's M/V PAULA (total crane capacity 700 mt) loaded the three ferries onboard in Hiroshima and on 31 October she has completed the discharge operation of the ferries in Yangon.
It is expected that the inauguration of the new ferries will greatly improve safety of river transportation in Yangon as well as the quality of transportation environment for the Yangon citizens.

Myanmar has recently been attracting the attention as "post-China" and Japanese Government is cooperating with Myanmar with regards to the development of Thilawa Industrial Park and many Japanese companies have commenced operations in Myanmar. We "K" Line opened our Representative Office in Yangon in January 2014 and we will be providing customers with multi-modal services which would respond to their needs in marine transportation, logistics and related businesses.
(Discharge Operation)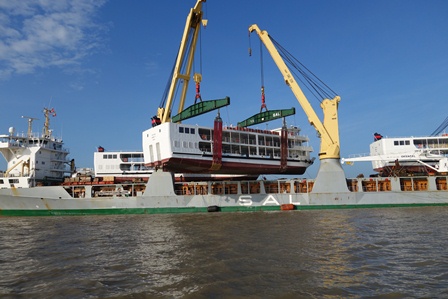 (Ferry route between central Yangon and Dala area)