December 27, 2017
Kawasaki Kisen Kaisha, Ltd.
Warehouse and Container Depot Company in Thailand Acquires "ISO 28000 and C-TPAT Certification"

We proudly announce that K Line Container Service (Thailand) Ltd. (KCST), an affiliated company of Kawasaki Kisen Kaisha, Ltd. ("K" Line) that operates warehousing and container depots in Thailand, has acquired "ISO 28000※1 and C-TPAT※2 Certification", which specifies the requirements for supply chain security management systems. Such warehouse certification by ISO 28000 and C-TPAT is one of very few in Thailand, and KCST is therefore viewed as a pioneer in the country's local logistics industry.
Since its establishment in 1989, KCST has been providing thorough, high-quality logistics services rooted in the local market. In 2015, KCST opened K Line Bang Phra Logistics Center, an advanced multi-function logistics center combined with container depot, truck depot and warehousing, located near Laem Chabang Port. Now, KCST has grown into a general function logistics company which operates a total of four distribution centers in Thailand. By continuously reinforcing its efforts for providing customers with ''Safety and Security'', KCST succeeded in acquiring ISO 28000 and C-TPAT certificates. We believe this is one of the best ways to demonstrate approval and confidence in the company's security management.
In continuously responding to diversifying customer needs, the "K" LINE Group is ready to provide the highest level of value added logistics services. Its network in Thailand and other Asian countries is expanding by further augmenting security management of cargo ''Safety and Security". To become "The shipping company of first choice", the entire "K" LINE group is committed to vigorously pursue the further strengthening of its logistics services, which has broadened into being a core next-generation business in the company's medium-term management plan.
※1 ISO28000 is an international supply chain security management standard. As part of the precautions against terrorism in logistics systems, functions include overall strengthening of logistics monitoring, reducing or eliminating stowaways and acts of piracy. Those organizations that choose third party certification can further demonstrate that they are contributing significantly to supply chain security.
※2 C-TPAT (Custom-Trade Partnership Against Terrorism) is a customs-trade initiative aimed at building cooperative relationships to prevent terrorism and ensure security. U.S. Customs encourages parties involved in trade with the United States (shipping lines, port operators, inland transporters, manufacturers, cargo owners, warehousemen and others) to participate in C-TPAT. By taking an active role in working and meeting the safety standards involved, C-TPAT partners enjoy a variety of benefits including accelerated custom inspections and examinations.

Employees of K Line Container Service (Thailand) Ltd.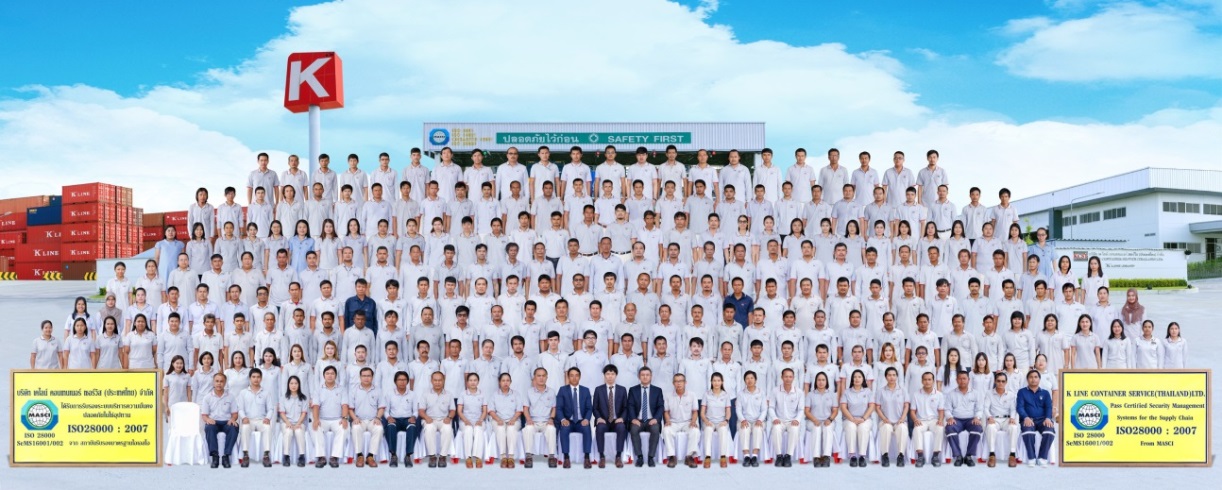 ISO28000 Copy of « Certificate of Registration »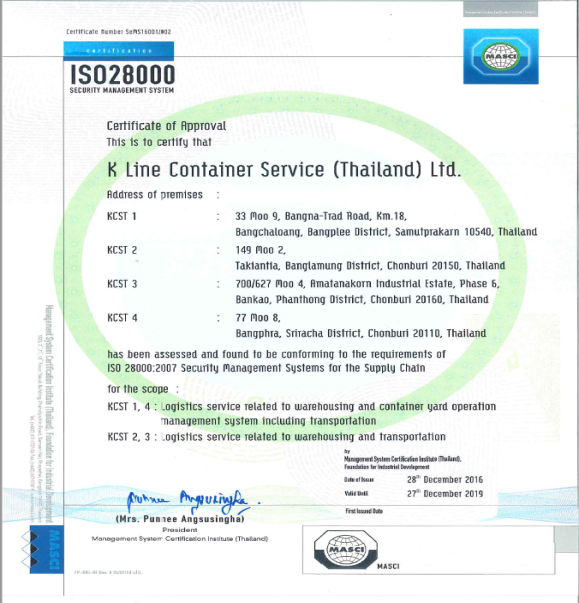 C-TPAT Copy of « Certificate of Registration »